Playing Formations plays a very pivotal role while playing eFootball Mobile. You have to choose your formation very carefully so that you can beat the opponent tactically and easily win the game online or against AI.
Here I am going to share some top and unique formations and play styles with you to play with and dominate your opponents in online games. Some of the best eFootball Mobile Formations include a 4-3-1-2, a 4-4-2, a 4-5-1, and a 4-3-3. Generally, a 4-3-3 is best suited for the Possession Style of play while a 4-5-1 and a 4-3-1-2 are better suited for the more counterintuitive styles of play.
Best eFootball Mobile Formations
The most important thing to remember when using the best eFootball mobile Formations is to keep in mind the role of the central midfielder. While the central midfielder is obviously the most important position on the field, the fullback must be given a little freedom to jog forward and backward occasionally because that is the art of defending.
Check out: DLS 23 Menu Mod
How to get Unique Formation in eFootball?
I have discussed some of the top formations below. You can choose your own formation depending on your playing style. I have explained in detail, how to use the particular formation so that you can use them properly in the game.
For the best eFootball Mobile Formations, the eFootball 2023 has a selection of various formations. You can change the formation by changing your coach in the menu.
See Also: FTS 23 Mod
---
Team: Boavista FC (Europe- Liga Portugal bwin)
Fromation: 4-2-3-1
You can make use of your wings and try some crosses to get better results. Get a fast and tall striker, he will take care of your all your crosses and covert them easily. This is eFootball 2023 mobile best formation for me personally.
A wide-attacking fullback will allow the team to create more width on the counterattack, particularly when the team is in possession of the ball.
---
3-3-3-1
Team: Piemonte BN (Italian League)
Pes Mobile formations offer a variety of formations and this is another rare and hidden formation that you can use, very use full to work with short passes and a fast striker.
Check out: FIFA Mod
---
Top eFootball Mobile Formations
Team: Kasimpasa SK (Europe- Spor Toto Super Lig)
Fromation: 5-3-2
It provides a very deep defensive wall of 5+3 players, which makes it almost impossible for the defense to find any gap between the wall. While building the counter, you only have to focus on your 2 Striker.
In addition, the presence of a central midfielder enables more lateral passing options for the attacking fullback, allowing the player to use his talents in a more productive manner.
---
Fromation: 3-1-4-2
Team: Internazionale Milano (Europe- Italian League)
In this formation, you can play a very good midfielder role. You can easily do some long passing to your strikers by playing a central focussed game, making less use of wings which makes it eFootball mobile best formation of all time.
---
Team: A.E.K. FC
Fromation: 4-3-1-2
This is a very good formation to be used for nonstop Counter Attacks. You can also play Tikitaka while building up the counterattack. It will leave the opponent no chance to get your player.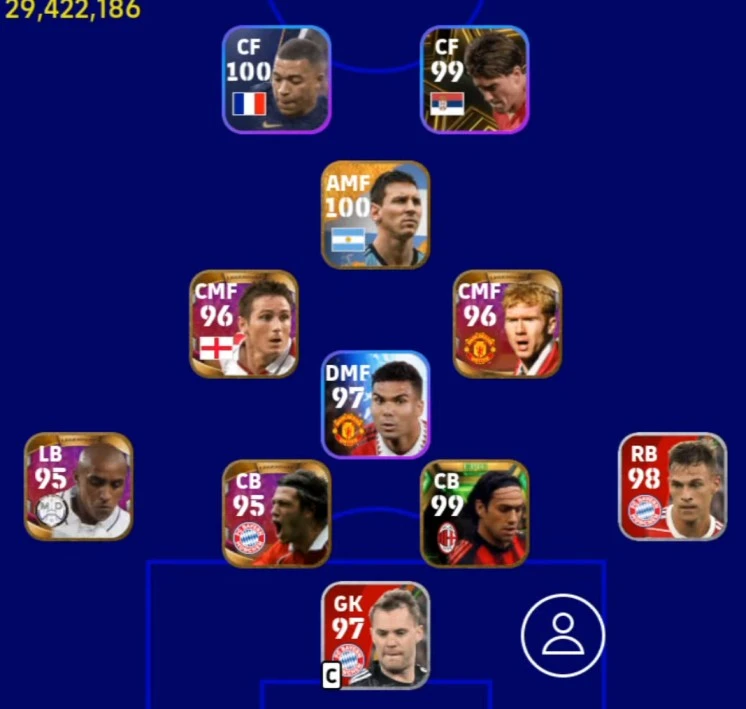 ---
So which is the best formation ever?
Basically, it all depends upon your playing style and the type of player you have in your team. Having said that, a good eFootball Mobile Formation should contain the best possible players for each position.
A good central midfielder and a wide attacking wingback are a must-have, but you may want to include some creative midfielders.
And with that, it is not a bad idea to change the formation in between the game. Sometimes your formation or playing style doesn't go well with that opponent's playing style and there is a mismatch of chemistry among your player. But that's OK, You can change your formation between any match because winning is essential not your formations.
You may also like FIFA 23 World Cup Edition Mod Apk for Android