Everyone loves free stuff, the perfect definition of it would be the game for which users doesn't have to pay to play. Yes, you heard it right, you don't have to pay a single penny to download or play such games.
Best Android Games
So today I am going to share my top 10 game that are free to play on Android & iOS. Games has been played for centuries and is a source of entertainment and joy. These games are usually simple, easy to play, and have a lot of fun and excitement.
See Also: GTA 4
One State
One State is an open-world game where you are immersed in a city where you can live a virtual life embodying one of the characters inhabiting this universe.
Each day you will undertake different tasks that will help you become. One of the most feared gangsters one of the most striking aspects of one state is its attractive 3D Graphics inspired by the classic GTA.
All this will gradually lead to conversations with other users to in real time create a powerful gang that will allow you to impose your own laws on the streets
KartRider: Drift
This is a mobile karting game where you'll drive one of the small vehicles to win a race by quickly demonstrating your driving skills. In each round, you will fight to overtake all rivals while Defending Your Position calmly. Kart Rider's visuals are spectacular.
It features 3D Graphics in the style of cart Rider Rush plus that will help you to identify each circuit area with the utmost Precision; thus, just glancing at each layout will be enough to see the curves coming in the distance. Another highlight of this game is that it
introduces you to many Pilots that you can unlock if you achieve the first position in the races. You will soon receive multiple rewards that will allow you to get new items and characters.
NBA Absolute
This is about a basketball game for mobile with official NBA licenses that will take you to the central courts of the best basketball competition in the world. Focused on the Tactical aspect, this title has everything you need to demonstrate your skills and control the
movement of renowned athletes.
The game features spectacular 3D Graphics that will allow you to quickly identify each player. On the court, you will have to tap on different action buttons to execute offensive and defensive movements with which you will stand up to the rivals.
Thus during each game, you will do your best to score spectacular baskets that will bring all the spectators and The Stance to their feet
Mini Tennis
Mini Tennis is a 3D tennis game that takes you worldwide to face the best tennis players. You can compete against artificial intelligence in race mode or against other online players using the match mode to begin a new round.
You have to choose whether you want your tennis player to be a man or a woman. Custheir clothes as much as you want, picking between different t-shirts, pants, skirts, and rackets. Controls are perfectly adapted to touch screens.
Just slide your finger toward the direction you want the ball to move, but you must do it at the right time. If you can Master this technique to Perfection, you'll strike the ball with much more strength.
1942 Pacific Front
Pacific Front is a multiplayer online tactical first-person shooter game in Modern Warfare. You can engage in intense and exciting encounters with the enemy in the Pacific region and work with your teammates to suppress the enemy with Firepower and outflank them.
Choose the perfect build from an extensive Arsenal, deploy vehicles, and use tanks, artillery, and more to gain an advantage. You can take to the battlefield with up to 40 players and two core game modes.
There are also Vehicles armored vehicles and other aspects that are Pleasant for gameplay, making the process even more exciting and exciting for the participants. It has a unique art style and high-quality graphics like traditional action games.
King of the West
This is a mobile strategy game in which you must collect a group of rare Heroes, mainly Cowboys and pumped Indians. You will have the opportunity to explore a new open world inspired by the wild west. You will play as a talented mayor with a mission to establish his own town, defeating the Bad Guys by assembling an army of skilled Cowboys.
The features of the Wild West are Faithfully reproduced in this game
Jobless Life
Jobless Life is a simulation game about an unemployed person who has to find work to survive in a city. In this game, you have to find various jobs while managing money and the daily necessities of Life.
It would help if you found jobs that match the abilities and qualifications of the main character in this game. You will live as an everyday unemployed person attempting to find work and start a business and Survive by shopping for food at nearby stores, collecting as much money as possible to be able to develop a business on your own.
Metal Slug: Awakening
This game has a new build based on the alpha test. The game combines traditional gameplay with new characters. There are various old and new features, such as the body's function and others to give multiplayer action games only instead of pixel. Graphics players are waiting for 3D models and a heavy soundtrack during missions.
The main goal is to get to the end of the level collecting weapons and destroying descent soldiers. There are four classic characters of the series available in the game. It is expected that this game will be divided into several biomes, the first of them being the sins of Egypt with mythological monsters, mummies, and Pharaohs.
The Entity
The Entity is a first-person horror game that puts you in the shoes of a character who wakes up in a strange mansion cell. You won't take long to discover that you're not alone. A strange woman won't hesitate to come after you if she hears you.
The Mansion in Entity is filled with puzzles. To escape the dungeons of the Mansion, you have to move several levers so you can get the key that opens the locked door. Once you've escaped from the dungeon, many more puzzles await you.
Overall, this first-person horror and Adventure game is sure to scare you more than once.
Survival Days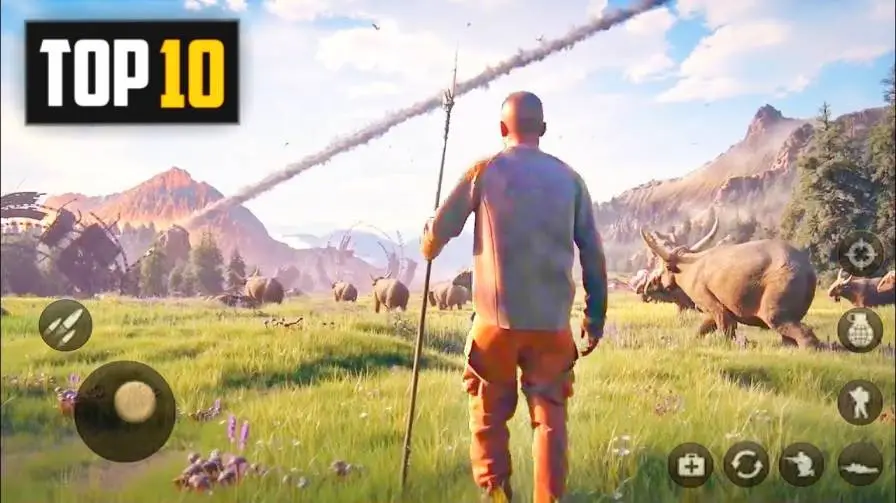 This is a third-person shooter in which you play as a zombie apocalypse Survivor. In this game, your mission is to help a little girl survive, but you can also help the many other characters you'll meet as you explore the city.
The missions last about two minutes typically, there are three different objectives to do in that time, and you'll earn a star as you complete each one.
You might have to beat the level in a limited amount of time, kill a certain number of zombies or get a certain number of headshots. Overall, this is a decent third-person shooter with good graphics, and a wide variety of missions vast. An Arsenal of weapons you can unlock as you progress through the game's story.
Which one is your Favourite Game?
Let me know what do you think of these games. There are many more good games like Dream League Soccer, First Touch Soccer, etc Also make sure to share your list too.